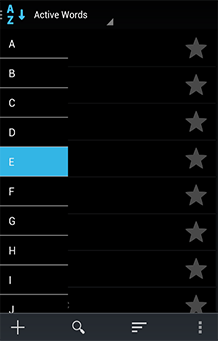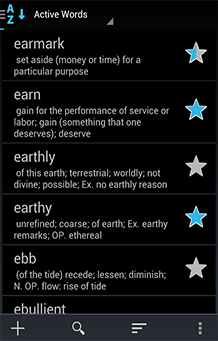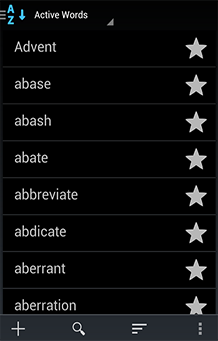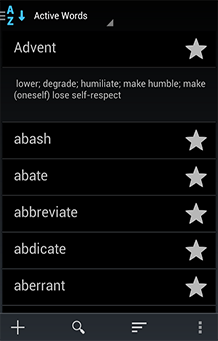 Vocab Builder
Vocab Builder helps you build and revise your vocabulary. Works great for GRE, CAT, CMAT, XAT, SAT, GMAT, etc
Features
Collection of around 4800 words
Completely offline - no internet connection required.
Customizable - Add your own words, edit existing words.
Learning mode and revision mode.
In revision mode, you swipe to reveal the word meaning.
In learning mode, the meaning is automatically shown.
Tagging & Synonyms - A word can be tagged with multiple other words. It allows you to make your own grouping of words.
Periodic Notification - A notification can be configured to appear periodically which will show you the word along with its meaning.
The notification can be configured to show only the words you want to learn.
Star Rating System
Vocab Builder is unique from other vocabulary building software in a way it employs flexible star rating system. It makes no assumption regarding your current level of vocabulary or the words you find easy/difficulty.
Instead, it allows you to mark words in 3 different categories
Zero star
Half Star
Full star
It is up to you to give semantic meaning to the star.
For people with strong vocabulary, a star can be given to few words they have trouble learning.
For people who are just beginning to learn words, a star can be given to words they have already learnt.
Notification system allows you to specify what star level words you want to be shown in notifications. A statistics page give percentage of each of starred, half starred and un-starred words.
Have a bug report or feature request? Just find the issue or file a new one here